There is nothing like customized learning . Places limited.
Personnalized according to YOUR needs
Spend 1 or 2 days in private with one of our experts and your team*, at your clinic, to help you implement and incorporate clear aligners for you in your own practice. Discuss treatment plans and get on-site training and role play with your team members. Build your day according to your needs**.Nothing is better to achieve success with clear aligners in your practice. You and your team will feel confident and motivated following these private moments spent with our knowledgeable experts***.
We love to share our knowledge with passion to our colleagues!
*Subject to the terms and conditions of the contract for services to be concluded following your registration. The private consultation sessions must be made while complying with all applicable laws and regulations, including, without limitations, deontology rules, professional secrecy and the protection of your patients' personal data.
**If part of the services you requested falls under the exercise of the profession of dentist, The C.L.E.A.R. Institute Inc. will act only as an administrative agent to collect the fees in connection with these services.
***We can provide you, on demand, a written and motivated version of the recommendations made during the private consultation sessions at your clinic, for a fee to be determined depending on the time required to prepare these written recommendations.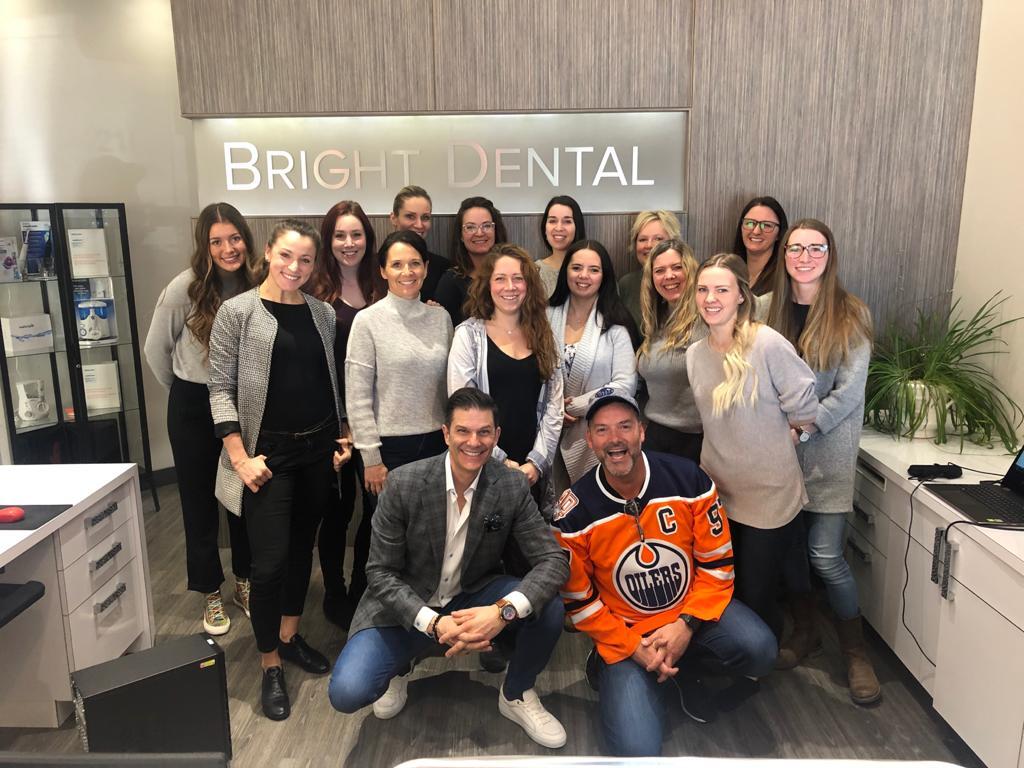 " My assistants and I took the Invisalign Mastership with Stephane and Frederic in Calgary in 2019 and then had Stephane and Michaela come to our St Albert office for a private training course in February 2020 to get the whole team educated and onboard with Invisalign. The C.L.E.A.R Institute provided us with clear and concise education, hands-on training, tools, and advice for office success as well as a lot of fun and laughter!! Stephane, Frederic, and Michaela have a real knack for making learning fun!! With the education and training provided by the C.L.E.A.R Institute we went from being a beginner office providing Invisalign to very few patients in our office, a mere 20 cases, to achieving gold plus status by the beginning of 2020 with an increase of 47 cases, and after our in office private training course we went from gold plus to platinum plus in just 1 year!!! With a current active case number of 292, we are now well on our way to achieving Diamond Status by the end of this year. Thanks to Stephane and his team! "
Dr. Frank Neves, DMD
By sending this registration form, the participant confirms his/her acceptance of the C.L.E.A.R. Institute's Privacy and Data Protection Policy, availableherewhich concerns, among other things, the use, by the C.L.E.A.R. Institute, of personal information gathered about the participant, as well as the terms of use of the site and applications of the C.L.E.A.R. Institute, availablehereDepending on the nature of your request, we will inform you of the costs and of the terms and conditions in connection with any service you will have requested.

For the private consultation sessions at your clinic, a quote would be sent to you and a contract for services will be concluded following your registration.
Cumulating more than 50 years of experience with Clear Aligners, our educators have only one goal: To provide you with the confidence you need to treat your orthodontic cases with clear aligners. Their mission is to make you as comfortable proposing Clear Aligners treatments to your patients as you are with any type of restoration.